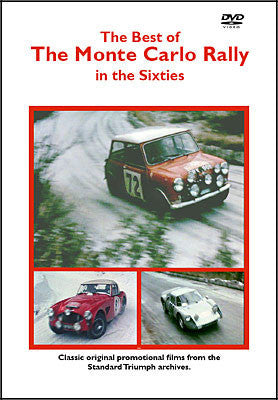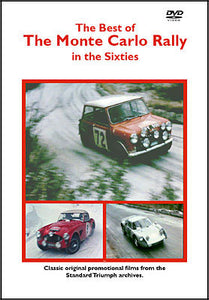 The Best of Monte Carlo Rally in the Sixties DVD
£1999

£19.99
Shipping calculated at checkout. Tax included.
---
A compilation of classic original promotional films from the Standard Triumph Archives re-mastered for DVD.
The Road to Monte Carlo (1960) (15 minutes)
In this era the Monte Carlo rally was the biggest event on the motorsport calendar yet, by today's standards, the preparation looks basic. The cars have no roll cages, the drivers make do with ordinary clothing. This year saw the Mini - which would change the world of motorsport for ever - make its first outing on the international stage. But it did not look like a future star just yet. Twenty-third was the best position a Works entry could manage. (PAL is the UK and European standard and NTSC is for the USA only)
Monte Carlo Rally (1963) (31 minutes)
1963, however, would be the year that the Mini began to prove itself. Held during the most severe European winter in living memory, this Monte Carlo Rally became an endurance test rather than a race. Two thirds of the 342 starters had been eliminated by the time the exhausted crews crossed the finishing line in glamorous Monte Carlo. Not a single competitor from Athens - one of the warmest start points - made it through! Top honours went to Eric Carlsson in a Saab, expert in such tough conditions and fresh from a third consecutive win on the RAC Rally. But the Minis also put on a plucky display with Paddy Hopkirk coming sixth overall. The line up of cars was stunning from the Fords - Cortinas, Anglias, Zodiacs and Falcons - to the Citroen DS and the little Renaults.
The Monte Carlo Rally (1965) (32 minutes)
1965 was another tough test of driver and machine but by now the Mini, and the BMC Works Team, were at their peak. Only 35 out of 237 starters were able to struggle through the howling blizzards to the finish line. The lucky ones merely got lost, the less fortunate fell into ditches or hit hidden obstacles in the snow. Snowdrifts covered the landmarks, making navigation near impossible and the mileage recorders were rendered practically useless by constant wheel spin. Through all this, the splendid 'Flying Finn' Timo Makinen with his co-driver Paul Easter emerged in tremendous style to produce a second consecutive victory for the Mini Cooper S. Also upholding British pride among the elite band of finishers were three Triumph Spitfires who finished second, third and fourth in their class.
Total running time 1 hour 28 minutes approximately
NOT compatible in USA & South America (NTSC)
---
---
---
We Also Recommend